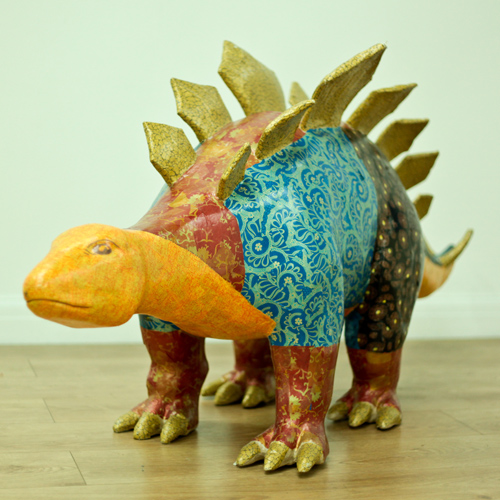 At TTS, we hear lots of great ideas as we go round the country talking to you in your settings and at shows. In our last blog (it's here if you need to catch up!), we were following Oliver and Frank's fascination with dinosaurs, and we built a dinosaur hide. We wanted to get the boys talking, so we brought a couple of friends along…
OK, so we know that not everyone has a magnificent Stegosaurus they can wheel out. We have seen our ingenious customers use everything from a cardboard cutout or a decorated cardboard box to a clotheshorse with material on it – with a little imagination, you could use lots of items already in your setting to represent a dinosaur. For other resources, we used the dinosaur den we built in the last blog and some role play food we had.
Ollie made quick friends with our Stellios, deciding he needed a hat if he was coming exploring. He then used a rope left over from den building to tie a lead around Stellios and take him for a walk. What a great imagination!
But what does an inquisitive quadrupod like for lunch?  Ollie decided that Stellios is definitely a vegetarian – he told us "he eats leaves", (and the odd pear, but who doesn't?)
It was really interesting to see Ollie look at what food he thought was good and bad for a dinosaur – when he transformed himself into one later, the only way was lettuce for him!
Frank decided he wanted to make sandwiches with milk for his dinosaurs, which he then fed to Stellios. Again, Frank was more than happy to say why he wanted to feed the dinosaur milk (to keep him healthy – well done, mum!) and what was on the sandwich.
What would you do when a dinosaur comes to lunch? We'd love to hear your thoughts and ideas, and we may well try them out, featuring them here!