When I first received my pot of Skwooshi I was very unsure about it as there are not many details on the pack.
I decided the best thing to do was just 'go for it', so I sat down with 3 children and emptied it out. The pack said 'no mess' but I was unsure so had taken the precaution of using a mat.
Our first impression was that we all liked the bright blue colour. I pulled a lump off for each of us to play with. The texture is hard to describe; the children said "weird" but I thought it was totally unique. At first it seemed a bit like sand, but then as we squeezed and squished it in our hands it went from solid to almost liquid and when we held it up it was like spider webs dripping on to the table – great for encouraging descriptive language!
We tried to make the Skwooshi stretch to the size of the picture on front of the pot. This did not seem possible but we did manage to get it to stretch quite a bit.
We used rollers with different patterns on as well as moulds, cutters and rolling pins which were great to use, but most of the time we just wanted to pull it apart. The most exciting thing about Skwooshi is its texture – it is so lovely to play with, pulling it apart and pushing it back to a solid in your hands.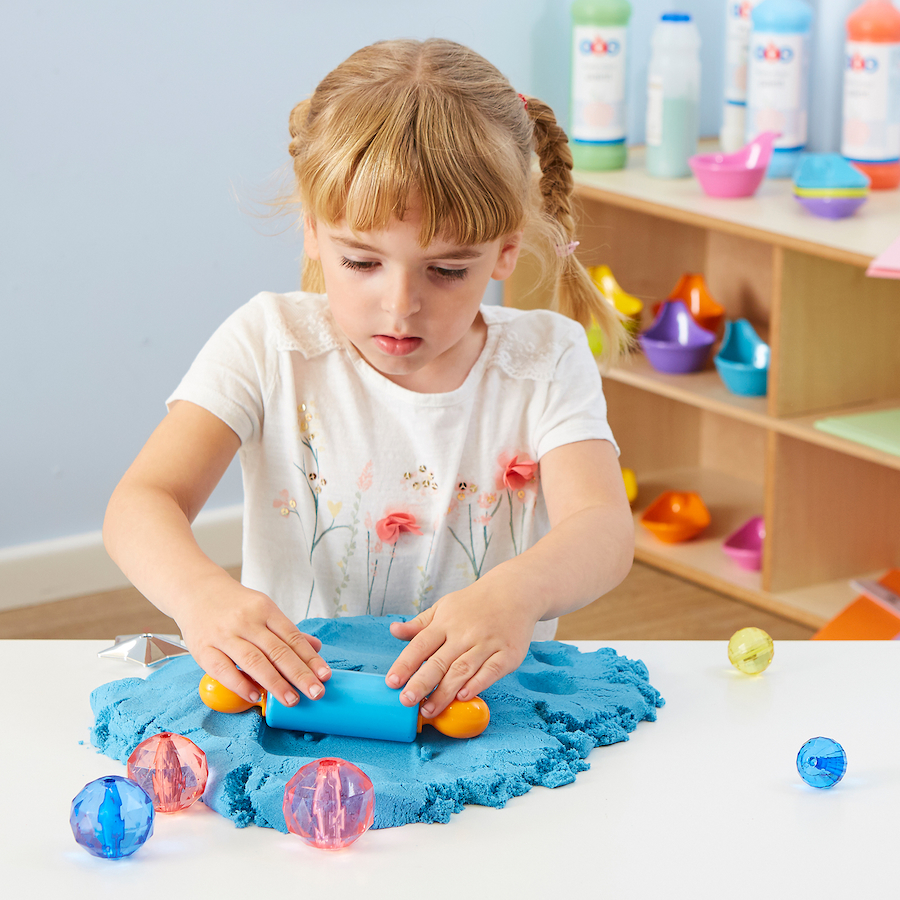 I found I actually preferred Skwooshi to plasticine or play dough especially as it doesn't have a smell (I hate the smell of Play-Doh!). The kids made some great models which they wanted to leave out so their parents could see them. I was very impressed that when I collected them up at the end of the day and squashed them together to put back into the pot, they were not dried out and would be ready to play with again.
But what I like the BEST about Skwooshi is the fact that it really is NO MESS! With other modelling materials you really have to use a mat and you know that you're going to be cleaning the table/floor and equipment that get covered in sticky mess. Any small particles that do come off Swooshi are easily picked up with the bigger bits which means when the children ask 10 minutes before dinner if they can play with Skwooshi, I can let them.
I LOVE SKWOOSHI BECAUSE IT REALLY IS MESS FREE – I didn't believe it until I tried it but it's true! There is no smell which is great and it doesn't dry out.
I have tested this product with children from two and a half up to 16 years (and adults up to 74!) and every person I tried it with did not want to put it away. It is strangely tactile and everybody was keen to know where they could get some. It is perfect for developing gross and fine motor skills as well as encouraging creativity and conversation.
I actually think it could also be a great stress relieving tool.
Any nanny, childminder, parent or nursery would love Skwooshi. It is great fun and we continue to use it all the time.
With thanks to Penny Watts, BAPN Director, for writing this post.