We all have different experiences of learning or teaching music at school. For some, we remember the squeaking chorus in a whole class recorder lesson, and for others it was the constant reminders of "don't touch your instruments while I am speaking" as the tambourine was just too hard to resist.
Whatever your experience, music is a really important part of the curriculum. The benefits extend far beyond the musical outcomes and can help children to learn and make progress across the wider curriculum too. Here are just a few examples …
Research studies have proven that learning to play an instrument can help to benefit children's overall brain development as it develops the left side of the brain, known to be invovled with processing language and reasoning.
Music can help children to develop a new interest, passion or it may uncover a new talent.
Both playing and listening to music can be great calming, stress-relieving activities and can offer children a way to express themselves
Some experts say that through learning about rhythm and counting beats, we are also helping to develop children's mathematical skills.
Music helps to activate both the left and right side of the brain at the same time which can help to maximise learning and improve memory.
So, with so many benefits, we need to inspire and engage children with music from the earliest opportunity.
Music is a universal language that embodies one of the highest forms of creativity.

National Curriculum, 2014
You do not need to be a musical expert to teach children about music. There are so many activities you could try together, such as learning to play a new instrument, listening to different genres of music, or creating your own percussion band from homemade instruments.
But, if you are not sure you are quite ready for whole class recorder lessons …
Our Rainbow Range may just be the perfect tool to start your musical journey.
What is the Rainbow Range?
The Rainbow Range is a collection of tuned instruments with each instrument, colour coordinated by musical note.  The colours match across the range so that the 'D' boomwhacker will play the same note as the 'D' hand bell.
Why use the Rainbow Range?
With all instruments colour coordinated by musical note, children and staff can easily recognise which notes they are playing.
Every instrument across the range has the same colour for each note.
Ideal for creating a whole class ensemble with different instruments.
Allows children the opportunity to learn a tuned instrument.
Diatonic and chromatic sets of instruments (tip – the notes from the white and black keys on a piano)
The Rainbow Range can be used across all age groups to develop musical skills in:
Playing tuned instruments with increasing accuracy, fluency, control and expression.
Improvising and composing music for a range of purposes using the inter-related dimensions of music.
Exploring pitch, duration, dynamics, tempo, timbre, texture and structure.
Playing and performing in solo and ensemble contexts.
Recognising, using and understanding musical notations and staff.
The different instruments available within the Rainbow Range:
You can also purchase a Rainbow Range Musical Instruments Set which will provide you with a bumper pack of colour-coded instruments.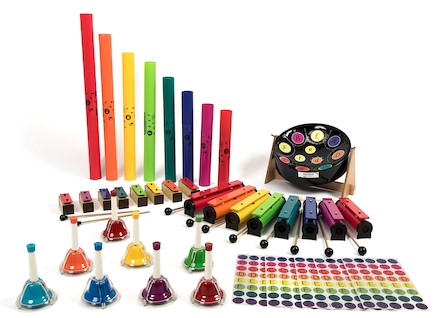 Activity Idea
Try out this fun way to teach children to improvise and compose music.
Introduce the rainbow instruments, their musical notes and matching colours.
Get your children to make colour coordinated flashcards to match the names and colours of the notes.
Show your children how to use their flashcards to order and create their musical composition, playing it back and changing it as they move flashcards around. Photograph the cards when they have finished composing their music.  If your class are ready, why not introduce the musical staff and show children how to draw the notes on (using coloured pencils for the different notes).
Children can rehearse their composition, experimenting with musical elements such as dynamics and tempo.
Why not set up a class performance to perform their compositions to a wider audience, inviting parents or members of the community.